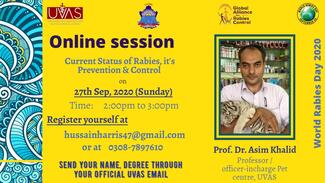 Special Animals & Veterinary Emergency Relief Society, SAVERS is a student-based organization working for the welfare and relief of both veterinary and animal communities under the name of, one of the most prestigious institutes in Pakistan, University of Veterinary and Animal Sciences, Lahore.
Rabies is one of the most common and deadliest zoonotic diseases present worldwide, a dire need of its public awareness and eradication is needed to overcome this battle. SAVERS has always tried to do its best for the animals and veterinary community to work in accord and live in a peaceful and harmonized atmosphere.
This year on World Rabies Day SAVERS has decided to arrange some activities for the young vet students to learn how to use their potential , in order to bridge the public with this serious issue and play their role in it. SAVERS has arranged tremendous activities every year on the account of World Rabies Day 2020, this year SAVERS has decided to focus on the new strategies to gain more attention from public towards this serious issue.
The event will start with an "Awareness Walk", in order to spread a unanimous message from all the vet students and staff of the institute towards the public in order to gain better attention and bring light to this issue.
''Online REC courses'' provided by GARC Official website will be taken in order to learn the basic education and spread it as much as we can in order to learn how to combat with this issue more accurately.
A documentary for public awareness will be made and run on social media accounts in order to spread public awareness and gather mass attention and teach them the seriousness of the subject.
A Online Session on Rabies and its current status and how to cope with it ,strategically, by  public health professionals in order to educate and guide the young vet students to focus their attention and play their significant role in this battle.                  Speaker # 1: Prof. Dr. Asim Khalid Officer-Incharge Pet Center, UVAS.                                                                                    Speaker # 2: Assoc. Prof. Dr. M. Hassan Mushtaq Chairman Department of Epidemiology & Public Health, UVAS
A blog writing competition will be held for the young vet students in order to promote research and new ideas by young vet students in order to boost their interest and channel their attention towards the subject.
A video message by SAVERS team members to the community in order to understand the seriousness of the subject and  know the fact that "Together we can eradicate Rabies".
Event images