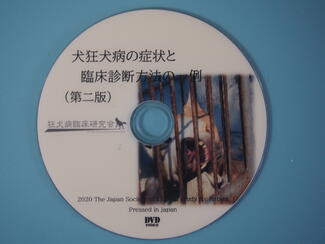 More than 60 years have passed since the rabies epidemic ended in Japan. As a result, almost no veterinarians have experienced rabies, making it very difficult to detect the disease correctly and early. Rabies can also infect humans and cause fatal illnesses, so it is very important for veterinarians to be aware of animal rabies early in order to save lives.
In 2011, we created a DVD explaining the clinical diagnosis of canine rabies. And this time the second edition has been completed.
In the first edition, clinical diagnosis is possible based on 6 criteria based on the paper by Dr. Veera of the Thai Red Cross Institute, and 17 typical signs are explained by collecting videos of dogs diagnosed with true rabies and showing the signs. doing. And the second edition explains how the same dog's symptoms change over time. In addition, a video of paralytic rabies, which is considered to be relatively rare, is also included in the same manner.
So far, we have held the World Rabies Day event to raise awareness of rabies prevention, but this time we have planned a webinar to learn clinical diagnostic methods for rabies as follows. Please join us.
Report of WRD IN JAPAN 2020
The Japan Society of Clinical Study for Rabies
COVID-19 makes it difficult to hold various academic meetings and events in this year.
Therefore, we held the webinar to learn clinical diagnostic methods for rabies with these DVD as follows.
Date: Sunday, October 4, 2020, 4:00 pm to 5:30 pm
Theme: "Learn with videos, clinical diagnosis for living dog rabies"
Lecturer: Kazutoshi Sugiyama, DVM, Ph.D(Vice Chairman of the society)
There were more than 400 applications for participation, and not only clinical veterinarians but also public health veterinarians participated. (Actual participants are 236 people)
In this seminar, explained the points of clinical diagnosis using the DVD (1st and 2nd editions) that explained the clinical diagnosis method of living dog rabies created by our association as a teaching material. The method of clinical diagnosis for rabid dog is based on "Six criteria for rabies diagnosis in living dogs". Veera Tepsumethanon. et al., J Med Assoc Thai. 2005 Mar;88(3):419-22  We received a lot of questions in the chat and couldn't answer all in time, but we had answered the remaining questions on our website .(https://www.jrabies.org/)
We hope that you can improve your rabies diagnosis technic by watching our DVD repeatedly. The DVD(1st and 2nd editions) which was translated English is provided free of charge to rabies affected countries. If you need these DVD, please contact us. e-mail : [email protected] or [email protected]
Event images