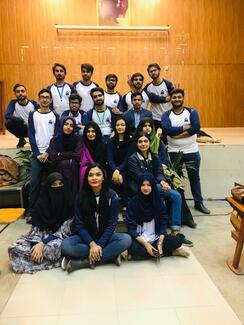 Our work:
Free Vaccination desk:
The best possible way to prevent rabies is vaccine against rabies. Being a student organisation, arranging free Vaccination for animals has always been a difficult task, but SAVERS on the account of World Rabies Day decided to do it's best for the community every year. SAVERS successfully arranged free Vaccination desks every year, sponsored by some national pharmaceutical companies. The vaccination desk provided free vaccine shots to hundreds of dogs and cats on campus.
Awareness walk & Seminar:
One of the best ways to prevent rabies is the dissemination of precise information to the community in order to fight against rabies. For the purpose of mass awareness SAVERS has been one of the pioneers in initiating the awareness walk regarding rabies. The walk usually starts with the respected Vice Chancellor, Deans and vet students and end up having students from various degree programs and common people wanting to know about Rabies. Every year the number of people being aware of what rabies actually is has been increasing significantly. Immediately after the awareness walk, a brief seminar is conducted where various workshops are arranged which help people to better understand Rabies. These workshops have been proved very effective in order to help people, better grasp the knowledge needed in regard to rabies and how to deal with it.
Rabies & COVID-19:
Different times require diverse strategies, in times like COVID-19, SAVERS through it's social media platform has been playing a very important role in targeting audience to spread the awareness in the community. A group of people working in the media cell of SAVERS have been purely devoted to this purpose. Awareness videos and awareness posters have been regularly posted. Online sessions by the professional workers of our university have played a remarkable role during the pandemic, with detailed lectures on rabies & it's prevention, treatment and control. These are followed by a Question & Answers session which has further helped in clearing the misconceptions associated with against rabies. The result of these efforts has been fruitful since SAVERS has successfully targeted a larger number of people through these events, especially the youth.
Successes:
Free Vaccination against Rabies:
The vaccination desk arranged by SAVERS was the first free vaccination desk arranged by this student based organisation. SAVERS organized a high quality vaccine with the help of a few national pharmaceutical companies. This led to the vaccination of hundreds of pets. It ended up as a success as we were able to vaccine a sufficient number of pets and the nearby localities.
Academics:
The basic and important knowledge disseminated to the young veterinary students by SAVERS has not only increased their knowledge but also build up an area of interest regarding rabies. As a result, most of the students have chosen veterinary medicine as their further professional career.
Community Outreach:
The main part of the community that can help us fight against rabies is the most ignorant part of our community. The people, victims of illiteracy and poverty need to be educated in this regard. Therefore SAVERS decided to target the community living in slums in Lahore. Sessions were arranged in which all the people especially the kids were taught "what rabies actually is" in their common and native language. It was a success for our organisation as not only the civilized, young and educated part of the community took up the fight against rabies, but also the uneducated community joined us in this battle against rabies. The people began to learn that killing dogs is not a solution anymore!
 
Impact:
Thousands of animals in lahore and in villages like jagguwala, Sittarwala, Mundaiki and Saghian Mandi got vaccinated because of our Free Vaccination and Treatment Camps.
(content modified from nomination information)