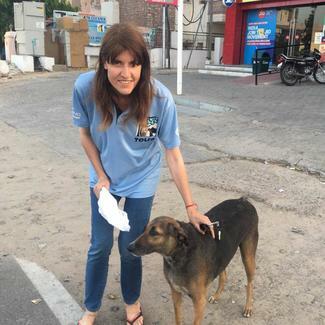 My work:
Mrs Rachel Wright has been a veterinary nurse for over 20 years. She qualified as a veterinary nurse in the UK and then travelled all over the world volunteering at different animal NGOs. Rachel founded and opened
TOLFA in 2005 and has been living in India ever since. She lives near the hospital with her family and works full time at the hospital. TOLFA has been sterilising and rabies vaccinating dogs since the hospital opened 15 years ago.
Her work at TOLFA includes:
Establishing and delivering an Education Project - reaching out to schools, colleges and businesses to raise awareness about rabies and encourage people to get vaccinated as well as vaccinating the local animals
Sterlisation and vaccination - Ensuring that all the dogs that come through TOLFA's gates are sterilised and vaccinated against rabies
Coordination and collaboration - Works with the local municipality to ensure sterilisation and rabies vaccination of the community dogs continues to humanely control and reduce the street dog population
Successes:
Since 2005, Rachel and her team have sterilised and vaccinated over 26,000 dogs against rabies. In addition, another 31,398 animals have been vaccinated against rabies.
Impact:
Before COVID-19 TOLFA ran a comprehensive education programme in local schools and colleges teaching children about the importance of good animal welfare and husbandry, compassion for all animals, how to safely interact with street dogs and dog bite first aid. Raising awareness about rabies in our communities is something Rachel feels very strongly about as education is the key to a kinder and safer world. In 2019 TOLFA reached over 1650 children plus their teachers and guardians through our Rabies
Awareness Education Project.
(content modified from nomination information)