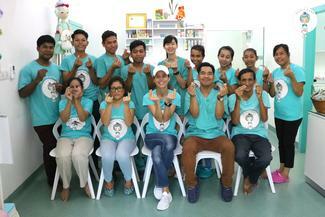 Overview:
Animal Mama has initiated Rabies Free Cambodia program in 2017 and consistently carried it out since then. Our program is also a part of our Pagoda Protocol campaign which has 5 pillars of community and homeless animal services: Rabies Vaccination, Core Vaccinations, Microchip, Neuter/Spay, Deworming.
We work all over Cambodia and travel in the furthest provinces in which there is absolutely no veterinary care available, such as Pailin, Battambang, Siem Reap, Phnom Peng, Kampot, Kep, Sihanoukille, Takeo, Takmao and the islands off the coast of Cambodia, Koh Kong, Ko Rong, etc.
 
Our work:
We work in both daily routine with the individual rescuers, monks, monasteries, and communities who are bringing their animals to our clinic to receive the Pagoda Protocol (rabies always included). In the clinic we
vaccinate daily between 10-20 community/.pagoda/stray animals. Moreover, we undertake the community missions and work with large organizational events with World Vets, Vets without Borders, Pawasome,
and FARvets. Finally, every September (2017, 2018, 2019 & 2020) we work with local government and the religious and community leaders to organize their respective villages to provide mass rabies vaccinations, and spay missions to ensure that the animal population is under control.
We also work closely with the Ministry of Agriculture and Royal University of Agriculture on the rabies awareness events.
Some specific projects include the following:
1. Rabies Free Cambodia - the proactive mass rabies vaccination in the clinic and the community around the country.
2. Pagoda Protocol - daily mass spay/neuter, deworming, vaccination of all animals living in the temples
3. Free Rabies September carried out since 2017.
4. Writing Weekly Column about Animal Health and Human Health in the country's leading newspaper.
Impact:
In 3 years, we have been able to vaccinate over 30,000 stray, community and village animals for rabies.
This year, 2020 we already reached 3000 animals. Moreover, we are dedicating 10,000 free Rabies vaccinations to be given to the Cambodian communities in the temples, poor areas and rescues in September - November. Our plan is again to concentrate on several neglected areas and follow up with spay missions to ensure that animal population is not only vaccinated but the numbers are not growing disproportionately. No one in Cambodia has yet achieved the results we have.
(content modified from nomination information)