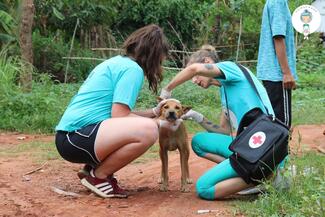 Animal Mama is so proud to receive our certificate of recognition from the Global Alliance for Rabies Control to thank us for our contributions to eliminating Rabies. We work extremely hard all year round on our mission to create a #rabiesfreecambodia. 
To support World Rabies Day 2020, Animal Mama vet team is set to carry out 10,000 FREE rabies vaccinations and deworming treatment for pet owners, street and pagoda animals, and animal rescuers in Cambodia during the full month of September 2020 leading right through to the World Rabies Day on the 28th and beyond through the whole month of October 2020.
We aim to share our data with all agencies, both NGO & Royal Government of Cambodia, to support the goal of Rabies Free Cambodia 2020. Our goal is to give 10,000 rabies vaccinations during this two month event. 
All animals will be microchipped and their information will be entered onto our electronic database which will share with all relevant partners. 
Animal Mama Clinic and Pet Wellness Center aim to provide holistic and affordable care for all animals in Cambodia - both, pets and strays. We run a self-sustainable social enterprise and the profits from our pet care and vet clinic are put towards efforts tolrescue, rehabilitate, vaccinate, microchip, and adopt out all animals in need. We conduct public health and animal welfare campaigns, spay/neuter campaigns, and education and awareness campaigns. We also aim to build a support system and provide on-going support for other NGOs and individuals to support their efforts in animal welfare and animal rights work. 
Event images