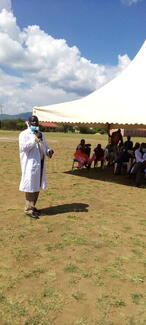 The County department of Veterinary Services in collaboration with the RedCross under the Community Epidemic & Pandemic preparedness CP3 program, Action aganist Hunger (ACF One Health Program) and Kenya Veterinary Association (Rift Valley Branch) will be having a Rabies Day event in Konyao Centre Pokot North Sub County on 28.09.2020
Activities include Radio talk (Kokwo Radio) on 24.09.2020 , Rabies vaccination of Dogs and cats, Community awareness, procession within Konyao centre.
Rabies vaccination is also ongoing in the following areas Sigor, Marich, Lomut, Chepareria, Chepkono, Kabichbich, Kapsait, Kishaunet, Keringet, Siyoi, Karas, Kacheliba, Konyao, Alale, Kasei and Kamila as from 17.09.2020 to 09.10.2020.
The County has reported several cases of dog bites in both humans and domestic animals. Cases of bites from wild animals has also been reported. The community need to be sensitized on the risks of dog bites and importance of rabies vaccination.
Event images