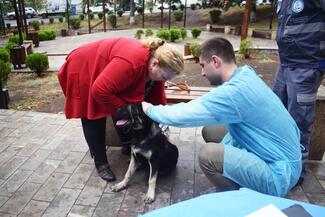 "Animals Monitoring Agency"
The animal monitoring agency has been working since 2015 to manage animal populations in urban areas and increase their welfare. Its main functions are: creating a safe environment for coexisting of human and animal, catching and taking unattended animals to an animal shelter for further procedures, identifying animals with microchips/tattoos/ear tags, protecting animals from cruel/inhuman treatment, 24-hours prompt response to people calls. 
Management of stray animal populations is held by humane methods that are proven in the whole world using castration/sterilization operations. Since 2015 the agency has taken the most important steps to create a safe, reliable, and friendly environment for human and animal coexistence. 
In recent years the number of surgical and first aid operations has increased at the municipal shelter (since its establishment the agency has conducted more than 20,000 operations, from which 5,465 sterilization-castration were performed in 2019). According to 2017 data of animal operations, the average daily rate of operations was nine, whereas today, according to 2020 data of animal operations, this number has increased to 15. 12,000 surgeries have been performed at the municipal shelter in two last years, which is an unprecedented index across the region.  In 2018-19 years the number of rescue operations has increased. In 2019 rescuers saved 450 animals and performed 396 rescue operations. Some of them were donated to a caring patron, while others were returned to their natural habitat. 
Since its establishment, the agency has performed more than 22,000 surgeries. In response to the COVID-19 pandemic, in 2020 including August more than 3000 surgeries have performed in a municipal shelter.
Number of operations by years: 
2015 Y. - 1229;
2016 Y. - 4002;
2017Y.  - 3440;
2018 Y.  - 4754;
2019 Y.  - 5618.
Significantly is increased awareness and coordination of agency with civil society and activists. the practice of animal monitoring agency is a role model for other countries. they learn our experience. The Animal Monitoring Agency has taken an important arrangement to prevent rabies. In 2015 the agency has started the stray animal vaccination program. In recent years, the main priority of Georgian national health policy is the effective functioning of the epidemiological surveillance system in the country and the reduction of socially dangerous diseases. According to 2019 data, 6540 anti-rabies vaccination was performed.
January – 360

February – 590

March – 680

April – 640

May – 720

June – 630

July – 620

August – 420

September – 480

October – 420

November – 370

December - 610
World Rabies Day aims to raise awareness of the disease among the people, to spread information widely to save lives. over the past two years, the agency has implemented important projects to raise animal welfare and public awareness:
New settlement - wooden houses for homeless animals has installed in different areas of the city

Vending machines - food machines have installed for homeless animals in the squares and gardens of Tbilisi 

Information - cognitive lessons in Tbilisi schools, the purpose of the lessons is to prevent mistreatment of animals in adults, to encourage social responsibility, and to raise legal awareness

Public lectures - as part of the public awareness campaign, the "Animal Monitoring Agency" organized a public lecture course at "Ilia State University" - "All About Pets"

Meat products for homeless animal carer (distance owner) - under a memorandum with "west invest", our agency is providing frozen meat products to the homeless animal carer (distance owner) 

Spraying of areas with replants - every year as the temperature rises the "Animals Monitoring Agency" starts spraying areas of the city.  

Animal's donation - agency held animal donation events periodically

Anti-rabies vaccination - the agency is implementing a free anti-rabies vaccination program for stray animals to prevent rabies.
September 28 is the world rabies day. In Tbilisi, in a specially arranged open space, the veterinarians of Animals Monitoring Agency will be providing vaccination of dogs against rabies.
#RabiesEndsHere
#Zeroby30
Event images