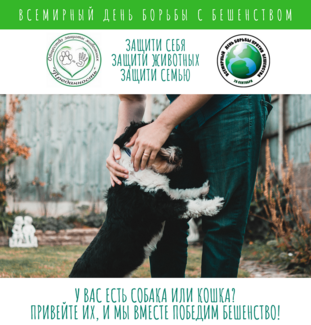 The Regional Society for Animal Protection "Predannost" together with its partner, vet Yulia Generalova as well as Belgorod Region Veterinary Office are holding the Subsidised neuter pop-up clinic for pets which will include free check-up and free prophylactic vaccination against rabies.
The campaign is dedicated to the World Rabies Day on September 28, 2020.
The event will take place on Saturday, September 26, 2020, from 11 am to 4 pm. 
Location: p. Maslova Pristan
RUSSIAN:
Региональное Общество Защиты Животных "ПРЕДАННОСТЬ" совместно с партнером, ветеринарным врачом Генераловой Юлией Сергеевной (Ветеринарный кабинет "Верный друг") и Управлением ветеринарии Белгородской области проводит очередную Благотворительную акцию льготной стерилизации ДОМАШНИХ животных и бесплатную профилактическую вакцинацию от бешенства.

Акция приурочена к Всемирному дню борьбы с бешенством 28 сентября 2020 года.

Акция пройдет в субботу 26 сентября 2020 г. с 11 до 16 часов
Место проведения : Ветеринарный участок "Донецкий" (п. М. Пристань)
Стоимость кастрации/стерилизация
- кошки -500 руб;
- кота -300 руб;
- собаки- от 1000 руб.
ВАКЦИНАЦИЯ ОТ БЕШЕНСТВА БЕСПЛАТНО !
Приводите и приносите своих домашних животных, в течение всего дня ветврач будет вакцинировать ваших питомцев от бешенства.