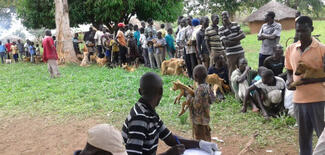 The BIG FIX Uganda will be offering FREE rabies vaccinations at various locations in AMURU DISTRICT, Northern Uganda, on 27 and 28 September in recognition of World Rabies Day.
School outreach programs are also occurring on an ongoing basis in Northern Uganda and these programs include rabies prevention and education, as well as how to avoid dog bites.
Exact vaccination sites will be announced in early September.
Dogs and cats will receive free rabies vaccination and de-worming.  The BIG FIX Uganda also has a community spay/neuter program which allows dogs and cats to be transported to The BIG FIX Dog Hospital where they will be spayed/neutered, and treated for any injuries or conditions.  
For information on these services, please contact the dog hospital at 0 784 249 120 or by e-mail at [email protected]