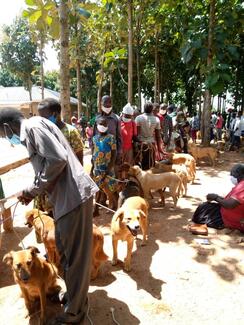 BIG FIX Uganda will be providing FREE RABIES VACCINATIONS and free de-worming for dogs and cats at two locations in Amuru District on 28 September, in recognition of World Rabies Day and our commitment to eliminating rabies through vaccination and education.
Site 1:  Kal Parish/Pabbo Town Council HQ
Site 2:  Palwong Parish/Jang-Gari In Palwong P7 School
COVID-19 Protocols will be in place.  Please wear a face mask and be prepared to do hand washing and maintain social distancing.  We request that you strictly follow the directions of BIG FIX staff at this event so that we ensure all COVID-19 Protocols are followed and we get all your dogs (and cats!) vaccinated without any issues.
Event images