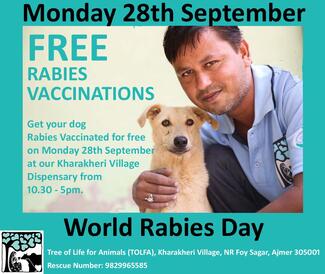 FREE RABIES VACCINATIONS AT TOLFA ANIMAL HOSPITAL
We are providing free rabies vaccinations for all dogs at our Dispensary in Kharekheri Villlage on Monday 28th September 2020 10.30am - 5pm.
If your dog has not been vaccinated against rabies in the last 12 months, please bring them to our Dispensary for a free vaccine on World Rabies Day.
Masks and social distancing measures apply.