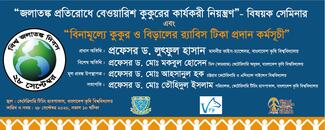 The Veterinary Teaching Hospital of Bangladesh Agricultural University (BAU) together with the Faculty of Veterinary Science holds the free pre-exposure vaccination against rabies along with free check-up of dogs and cats. The program also included a webinar on "Humane control of stray dogs to prevent rabies". The webinar talk was given by Prof. Dr. Md. Ahasanul Hoque from Chattogram Veterinary and Animal Sciences University. Prof. Hoque emphasized the sterilization and vaccination of stray dogs to control rabies. The honourable Vice-Chancellor, Prof. Dr. Lutful Hassan of Bangladesh Agricultural University inaugurates the program as the Chief Guest. He urged the concerned bodies and stakeholders to act in a coordinated way to control rabies. The Dean, Prof. Dr. Md. Mokbul Hossain of the Faculty of Veterinary Science of BAU was present as the special guest. He asked the veterinarians, pet owners to take vaccine against rabies regularly. Prof. Dr. Farida Yasmin Bari, President of Bangladesh Agricultural University Teachers Association, Prof. Dr. M. Abu Hadi Noor Ali khan, Director of BAURES, and Advisor in-charge Prof. Dr. Md. Zakir Hossain also spoke on the occasion. Prof. Dr. Md. Taohidul Islam coordinated the program and presided over the webinar session. Faculty colleagues, veterinarians, veterinary students participated in the program.
The program was dedicated to the World Rabies Day on September 28, 2020.
The event took place on Monday, September 28, 2020, from 10 am to 2 pm. 
Location: Veterinary Teaching Hospital, Bangladesh Agricultural University
Event images