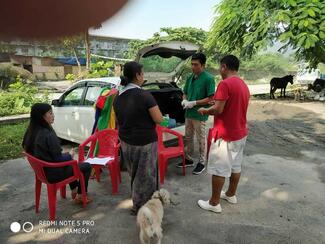 Chhukha (Phuentsholing) and Samtse districts in Bhutan shares porous border with India, about 20 rabies outbreaks are reported yearly in dogs, cattle & horses. Fortunately, no single human rabies case since 2016 (1 case). Regional Livestock Development Centre (RLDC) Department of Livestock Tsimasham (western region) will coordinate the community awareness on Rabies in all high risk villages and conduct mass anti-rabies vaccination on 28th September 2019, continue a week long. 
The community (high risk villages) shares porous border with India, common trans-movement of free roaming stray dogs is main key issues with rabies threats. The centre will focus in two southern border districts- with mass vaccination campaign, covering minimum 85% and educating localities. Rabies is prevalent only in southern districts. 
The lead agency will involve all the relevant key agencies-through ONE HEALTH approach in the region.
Rabies"Vaccinate to Eliminate" >focus>on mass anti-rabies vaccination. 
Event images