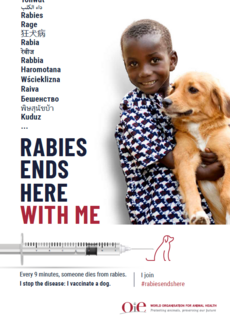 Background
Rabies is 100% preventable in animals and humans. It can be prevented by vaccinating dogs, avoiding dog bites, administering post-exposure prophylaxis (PEP), and raising awareness among communities as well as promoting the concept of responsible dog ownership. There is no cure for rabies once symptoms develop, and bite victims invariably die a slow and painful death. Therefore, preventing - as always- is best measure
Around the world some 59,000 people die of rabies every year, which means one person dies from rabies every 9 minutes. Children are the major victims of rabies and 40% of the casualties are under the age of 15, mostly in the developing countries of Asia and Africa. 
Africa carries a disproportionate high burden of this disease causing an estimated 21,000 human deaths every year. Although the road to elimination is still long, good progress is being made in Africa. Many countries have developed dedicated elimination strategies and are implementing them based on area-wide or country-wide mass vaccination of dogs, awareness education and provision of PEP to the exposed human victims. There are also numerous challenges in several countries in Africa towards rabies elimination program. Therefore, rabies control and subsequent elimination necessitates a multi-sectoral collaboration at the continental, regional and country level, using a One Health Pan-African approach to act against the problem.
Of the several activities, World Rabies Day is one of the most important global awareness-raising days on rabies. It is held on September 28th each year. This year's theme is "End Rabies: Collaborate, Vaccinate". Unfortunately, due to the current COVID-19 pandemic resulting in restrictions on travel and group gatherings in many countries, the "Tripartite" (FAO-OIE-WHO) are currently unable to organise face-to-face meetings and big events. Considering that, the Tripartite support regional activities to be conducted online where possible. The COVID-19 pandemic may also impact the organization of World Rabies Day by the Member Countries. To commemorate this year World Rabies Day, we propose to hold a webinar for the Africa region to share progresses and constraints of the elimination program by the Member and success stories from the Tripartite and its partners.
Objectives
To share updates from the Regional Tripartite (FAO/OIE /WHO) and GARC and other key partners on the progress of the global goal of zero human deaths due to dog-mediated rabies by 2030 ("Zero by 30").

To share countries success histories on mass dog vaccination campaigns, challenges and constraints face;.

To provide updates from rabies reference laboratories and Tripartite collaborating centres on rabies diagnostic and surveillance;

To share tools available for planning and implementing rabies elimination programmes, including the recently adopted OIE procedure for the endorsement of official dog-mediated rabies control programmes and strategies.

To identify gaps and opportunities for future interventions in support of development and implementation of the national strategic plans.
Programme: 
Day1: Wednesday, 23rd September (10:00 – 12:00 AM GMT): Theme: Update on progress and challenges of mass dog vaccination and rabies surveillance in Africa
To participate in the Zoom meeting, click /copy this link: https://oie.zoom.us/j/93153415231
To access the programme, click /copy this link: https://rr-africa.oie.int/en/programme/
Day 2: Thursday, 24th September (10:00 – 12:00 AM GMT):
Theme: Update on global and regional initiatives and available tools for planning rabies elimination
To participate in the Zoom meeting, click/copy this link : https://oie.zoom.us/j/ 96213011416
To access the programme, click/copy this link : https://rr-africa.oie.int/en/programme/
Event images